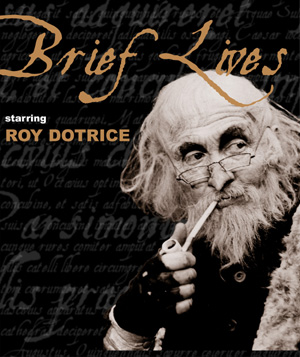 Stars in



As the curtain lifted on the world premiere of Brief Lives at Hampstead Theatre forty years ago, its global impact could not have been anticipated. Rave review after rave review greeted this fascinating and very funny story of an aging eccentric mulling over lawless 17th century society and the scandals of the figures heading it. It took the theatrical world by storm and the winning acting and directing team, Roy Dotrice and Patrick Garland, took it around the world. This sensational revival is already exciting the nation's media, even before the curtain has risen again on acting legend Roy Dotrice, playing the lovable character of John Aubrey. The production opens on 7 February 2008 at Colchester's Mercury Theatre and will then visit Theatre Royal, Brighton, Theatre Royal, Lincoln, Theatre Royal Windsor and Richmond Theatre. A West End transfer is planned.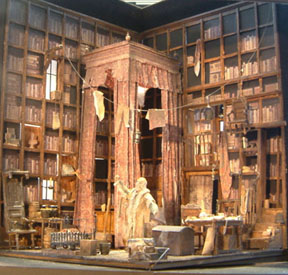 The play premiered in 1967 at Hampstead Theatre. It subsequently had two Broadway engagements and transferred in 1968 to the West End's Criterion Theatre where it played 400 performances before moving to the Mayfair Theatre. Those runs combined with extensive international touring earned Dotrice a place in the Guinness Book of Records for the greatest number of solo performances (1,782).
Join John Aubrey, reclusive antiquarian, as he takes you on a nostalgic journey through history and gives his unique take on days gone by including all the bits the history books missed out! Which globe-trotting courtier took a maiden's honour against a tree? Which eminent scientist kept a pretty young wench to wait on him? And which famous playwrights didn't only share a love of writing? No one is spared in this stupendous series of anecdotes about thepersonalities of his time. Oliver Cromwell, William Shakespeare, Sir Walter Raleighand even the Virgin Queen herself are not exempt from Aubrey's acerbic and hysterical gossip. Patrick Garland's triumphant adaptation of the Memoirs, Miscellanies, Letters and Jottings of John Aubreypaint a unique portrait of the time and the inspired use of true theatricality makes this production a must-see. This brand new production reunites one of the UK's leading directors, Patrick Garland (The Mystery of Charles Dickens, Visiting Mr Green) and Emmy, Tony and BAFTA Award Winner, Roy Dotrice (Amadeus, The Best of Friends) who shared the success of the record-breakingoriginal production which was unanimously proclaimed as one of the greatest performances in the history of theatre on both sides of the Atlantic.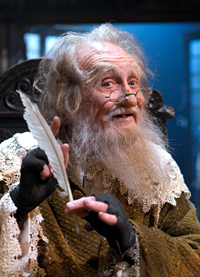 "Everything is here - wit, farce, tragedy, pathos, often bawdy, frequently uproariously funny. A truly delightful entertainment. Roy Dotrice is quite magnificent." Daily Mail

"Delicious, outrageous and incredible. Magically performed by Roy Dotrice." Evening Standard

"Marvelous. The music of humanity - that rare precious sound in the theatre - steals over the house." The Times
"A ripe, fascinating, gently bawdy, touchingly wistful evening. A magnificent performance. Hurry along and get tickets." Financial Times
"A really remarkable performance. Roy Dotrice is superb." Sunday Telegraph

"Roy Dotrice's performance is funny, engaging and well planned. He gets the audience on his side right away and his timing and sincerity ensure that we stay with him during his voyage through the stranger by-ways of English history." Alison Woollard, BBC.UK.com

"Always a magnificent actor, Dotrice commanded audience attention for every minute of this witty, wistful, bawdy, and outrageous trawl…. [a] loveable personification of Aubrey."
West Sussex Gazette

"Dotrice is magnificent." The Argus, Brighton
"[Roy Dotrice] doesn't so much play Aubrey as inhabit him… funny and illuminating throughout" Sussex Times
2008 TOUR DATES:

7 to 16 February
Mercury Theatre, Colchester
18 to 23 February
Theatre Royal, Brighton
26 February to 1 March
Theatre Royal, Lincoln
17 to 22 March
Theatre Royal, Windsor
25 to 29 March
Richmond Theatre, Surrey (0870 060 6651)
16 to 20 September
Anthony Hopkins Theatre, Clwyd Theatr Cymru, Mold (0845 330 3565)
22 to 27 September
Yvonne Arnaud Theatre, Millbrook, Guildford, Surrey (+44 (0)1483 44 00 00)