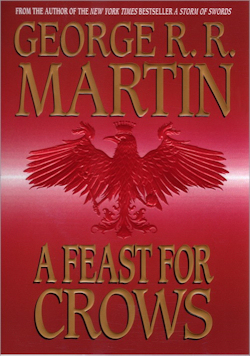 Great news for fans who sorely missed Roy Dotrice on the A FEAST FOR CROWS audiobook. Random House is releasing a new recording of AFFC, with Dotrice finally lending his voice to the fourth book in A SONG OF ICE AND FIRE. One of George R. R. Martin's favorite actors, Dotrice has narrated all other books in the series and will also been seen in the upcoming season of A GAME OF THRONES as pyromancer Hallyne. The new AFFC recording will be available December 15, 2011. Details below in the full press release:

NEW YORK, NY (December 12, 2011) - "Random House Audio announces today that it will release a new recording of George R.R. Martin's A FEAST FOR CROWS, the fourth book in Martin's best-selling series,A SONG OF ICE AND FIRE, narrated by fan favorite, Roy Dotrice.

Dotrice earned a passionate following from listeners and a Guinness World Record for his work on the series, creating 224 voices for the first book in the series, A GAME OF THRONES.
The new recording will be available December 15, 2011, published by Random House Audio, and HarperAudio UK, and clocks in at 33 hours, 48 minutes long.
A U.S. & Canada CD edition will be published by Random House Audio in March 2012 to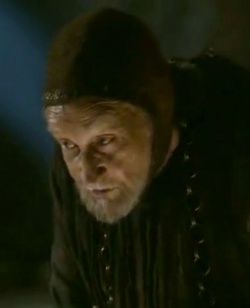 coincide with the second season premiere of the HBO series, "Game of Thrones," which will feature Dotrice onscreen as Hallyne the pyromancer, chief of the Guild of Alchemists.

"Fans from all over the world requested a Roy Dotrice recording of A FEAST FOR CROWS," says Amanda D'Acierno, Vice President and Publisher, Random House Audio. "We are so pleased to be working with HarperAudio in the UK to publish this edition for our listeners."

The A SONG OF ICE AND FIRE series has more than 12 million of the five books in print, including more than 313,000 audio CDs and digital downloads. The series has developed a huge cult following, peaking this year with the release of A DANCE WITH DRAGONS and the premiere of the HBO TV adaptation.
For more information about these and other best-selling audiobooks from Random House Audio and to hear a clip of A FEAST FOR CROWS, please visit www.randomhouseaudio.com.